How to employ All American Whiskey for your own selfish gain.
Branding is hard. We know, we're trying to do it right now. All American Whiskey, like many of the distilleries we write about, started with two friends at a bar. Now we're seven months in and what we thought was a fun blog about whiskey is growing legs and taking longer strides than we imagined. For which we can only thank our seemingly ridiculous decision to leave whiskey reviews to the barrel chasers while we focus on what really makes American whiskey matter: the people who make it, the people who pour it, and the people who drink it.
These people are the heart and soul of American Whiskey
Early on, we've secured candid interviews with industry leaders. Dan Garrison and Lisa Wicker may not be household names, but they should be. People in hospitality and beverages know them. You know them. They are part of the growing zodiac of luminaries developing game-changing American spirits. Writing even a single word of their story is a goddam honor. Our mission is to tell their stories and to tell them better than anyone else.
That's why All American Whiskey is committed to steady growth
A story may seem finished when it's been published, but it's not. A story isn't a story until someone reads it. Readers are our end game. All American Whiskey is committed to a long-term growth strategy aimed not at affiliate sales, Spotify, or drop shipping whiskey but at growing an audience of whiskey lovers interested in what happens behind the bottle. We know that a deep appreciation of bourbon and its crew of spirits is a culture, not a phenomenon. To love truly extraordinary rye is to love everything that brought it to one's lips: the coopers, the bottlers, the distiller, blender, marketer, distributor, and the bartender who poured it. It is also to love those finer things of life which are somehow adjacent to one's appreciation of fine whiskey: Literature and music, travel and discovery, philosophy and rumination.
Our growth strategy is based on 5 ideas:
Mutual Benefit—By working with independent whiskey makers and beverage industry professionals to develop and publish their stories through self-generated departmental stories listed below.
Unique Stories—By seeking stories that are flying under the whiskey media's radar, developing them into full-length features, and writing those stories in a way that is irresistibly engaging, informative, and imminently shareable.
Optimal SEO—By publishing long-tail SEO-driven stories that answer questions posed by the emerging search trends of whiskey consumers to steadily capture whiskey traffic toward projected milestones.
A Unique Voice—By developing a distinct editorial style, somewhere between the back-of-the-house punk prose of Anthony Bourdain and the acidic wit of Dorothy Parker; the exaggerated humor of Bill Bryson; and the well-researched, finely written, deeply respectful, and approachable literate journalism of Michael Pollan and Elizabeth Gatte.
A Unique Brand—By exhibiting a distinct and consistent visual style through sourcing images from the Library of Congress's Image Library rendered as steel-etched illustrations, to using vintage fonts and graphic elements reminiscent of prohibition-style. We employ a playbook of graphic and design standards ensuring our visual brand remains constant and vibrantly impactful.
Which is what we're all about.
Our team brings a unique set of experiences and skills to the party.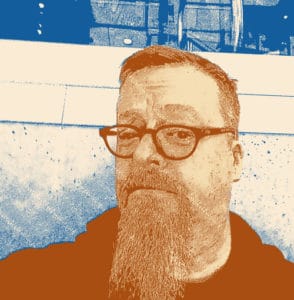 Scott Dayton hates talking about his degree in Existential Philosophy, but it continues to inform his understanding of business and culture as much as his time in Corporate America. His career as an IT executive and his current Organizational Leadership track at the Saïd Business School at the University of Oxford means he understands the pressures of managing a sprawling business while also understanding the intangible forces which come to bear in launching, managing, growing, and operating a whiskey magazine. Which makes him a damn good CEO. It doesn't hurt that he understands fermentation and distillation from his years as an award-winning amateur brewer (his Roggenbier is legendary).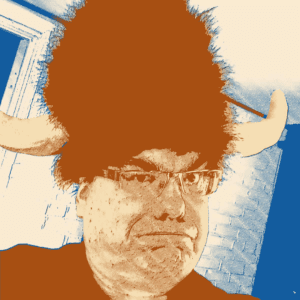 Bull Garlington hates not talking about his work as a writer but has learned to dial it back in polite company. Garlington is an award-winning author, columnist, and speaker. While he is best known as a humorist, his long-form features and short stories have appeared in literary magazines, consumer magazines, and newspapers since Reagan was a thing. As All American Whiskey's Chief Creative Officer and Head Writer, Garlington is responsible for editorial vision, execution, and design—all of which earned this brand-new site award nominations from the John Barleycorn Society and the Ascot Awards in 2022.
Both Dayton and Garlington live and work in Chicago.
All American Whiskey is a magazine
It's a website, we know that. But its editorial structure is that of a consumer-facing print magazine. Our editorial focus is on American whiskies, specifically featuring independent distillers who do not get a lot of national press. We do not cover nationally recognized brands such as Jim Beam, Jack Daniels, Buffalo Trace, or similar enterprise-level distilleries. Though their spirits are certainly worthy of attention, we feel their story has been thoroughly explored.
We're divided into distinct departments
Main Editorial
Quarterly Features are long-form stories between 1500 and 3000 words, the feature-length full-focus stories that would be teased by the cover art of a print magazine and are deep dives into some singular facet of whiskey culture. They take a lot of work and are published quarterly. Our debut Quarterly Feature is "The Way of Water," exploring the role and origins of American spirits' most essential ingredient.
Regular Stories are medium-length articles between 650 and 1200 words, covering a single subject in an engaging, entertaining style.
Back Matter
These departments are monthly prosaic essays, thought pieces, and ongoing writing.
"How Walker Percy Drank his Whiskey" was the first in an irregular series of essays about authors and their spirit of choice.
"Which Whiskey Should I Drink While Listening to an Afternoon Rain," is a popular example of our regular philosophical excursions wherein we discuss an emotionally difficult or experientially terrifying idea while never, ever telling the reader which whiskey they should drink when they do it.
Jukebox is an unbranded category of posts about music that is loosely associated with whiskey and includes links to our growing Spotify channel which currently sports more than 16 solid hours of carefully curated music.
Front Matter
These departments are short articles and interviews covering industry leaders. They are self-generated using an ever-changing Proust questionnaire for the whiskey world. Each department is branded, having a unique logo and a distinct social media presence. They offer the fastest access to publication at All American Whiskey.
How to use All American Whiskey for your own nefarious purposes
The easiest and most immediate way to get onto our editorial calendar is through the Front Matter departments. Each one has a form that takes anywhere from five to ten minutes to answer interesting questions. Our editorial department will turn your responses into a brief story and then promote it relentlessly upon publication. This puts you or your client on our editorial radar and in the front of our minds for future editorial inclusion.
We're open to anything from branded content to story pitches. Our head writer is a seasoned freelancer who loves to collaborate and develop new ideas into imminently sharable stories. However, All American Whiskey is not a review site, not in the way other whiskey sites are. We are eager to write about whiskey, but flavor profiles and grain tickets are covered by many other websites. We're the place to talk about your bottle design, to profile the fifth-generation family that grows your corn, the baffling and energetic brand ambassador that champions your product.
We also only cover whiskey. We may mention that your distillery also makes vodka, but we will probably not give it much more coverage.
Finally, we cover distillers and industry professionals of all ages, races, ethnicities, and pronouns indiscriminately. However, we feel that those qualities are only worthy of mention when they are germane to the story and intrinsic to one's efforts in their profession. Therefore, we do not tag individuals we write about by these qualities. A woman making whiskey is profiled for her accomplishments as a distiller. That she is a woman should be obvious from our use of her and she, and from her picture if we include one. Likewise, we won't tag a distiller identifying within the LGBTQA community, except by our employment of their preferred pronouns. Etc. Whiskey is all-inclusive and trans-cultural so writing about whiskey should happen under the editorial assumption that one's descriptions are not one's credentials.
Work with us