Last Updated on March 9, 2022 by Bull Garlington
I don't know what's real anymore. You can call it the whiskey resurgence or the whiskey reconnaissance or the hey, look, there's whiskey again period. Whatever you call it, the brown spirits industry is blooming with dollar signs.
Of course, this means the big names in adult beverages are sitting up in their seats to dip their finger into the mash. Jeppsoms is making bourbon now, presumably in the same facility they brew their infamous Chicago hazardous waste effluviate, Malort. Costco sells its own label. I have made my peace in a world wherein Jack Daniels sells canned Jack-and-Coke but I draw a line–I. DRAW. A. LINE–in the sand at the abomination that is Coors beer making a bourbon.
Not that I know what the hell I'm talking about
I am not a bourbon expert, not even close. I am the eager armchair steward of my own table-top supply of whiskies. However, I can't answer a single question about what makes a bourbon worthy. I have opinions. But my opinions are based on wingnut ideas. Pure gumption. And here's the thing: the people who run Coors aren't dumb. They have excellent facilities. They're working with a distinguished Bardstown distiller. Chances are I'll have to eat my words and admit their upcoming entry into the Bourbon Race is good. Until that time, however, I will look upon their vile discharge with disdain. I will sneer audibly as I type their commercial designation, their booze-de-plume: Five Trails Bourbon.
So fuck Five Trails bourbon (for now) drink these little known bourbons instead
America is enjoying a new blush of bourbon distilleries and has been since the mid-2000s. Or earlier. Depends on which distillery tour you're on.
Part of the bourbon boom is the emergence of insanely coveted whiskies. Pappy and Eagle Rare brought bourbon back into the zeitgeist. But it was the change in restrictive laws for the sale of spirits that allowed for the change.
Distilleries in North Carolina, for instance, could only sell one bottle of distilled spirits per customer per year. Until 2017 when the law changed to five bottles. It may be a few years until they reach their historically high population of nearly 400 distilleries in the 19th century. I mean, maybe never. Until then, their 80 licensed distillers will probably expand over the next couple of years.
In Kentucky, it was global demand and the balls of newcomers like Michter's and M.B. Roland to open a distillery in Jim Beam's backyard. This lead to a 358% increase in the number of distilleries there over the last 10 years.1source:https://www.forbes.com/sites/johnmccarthy12/2021/02/22/inside-kentuckys-rise-of-new-school-bourbon-and-rye/?sh=a53f54d133b8
Today, there are 73 licensed distillers operating in Kentucky2source:https://www.bizjournals.com/louisville/news/2018/06/19/kentucky-has-how-many-distilleries-now.html#:~:text=There%20are%20licenses%20for%2073,mainly%20concentrated%20in%20four%20cities. who pumped out 2.1 billion barrels of Bourbon in 2020.3source:https://kybourbon.com/bourbon_culture-2/key_bourbon_facts/
Finding a bourbon not backed by a big name isn't hard. Here are five we think you'll dig with a shovel.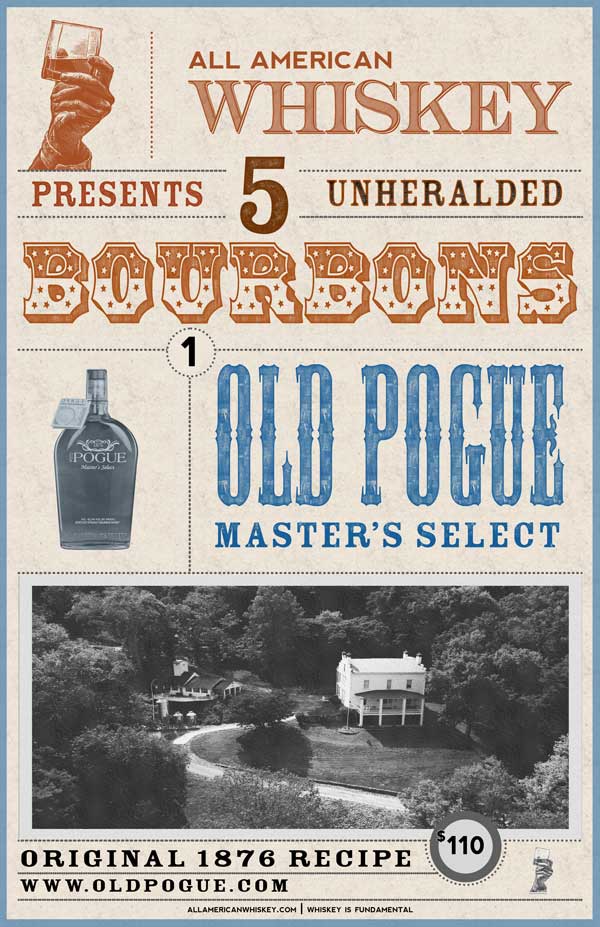 Old Pogue Master's Select Bourbon
Old Pogue is in its third incarnation since it opened in 1876. It was first shut down by prohibition then by the Second World War. In 2005, descendants of H.E. Pogue used a 100-year-old family heirloom bottle to reverse engineer their first bourbon in 70 odd years. Master's Select is their family recipe, made in what was once called Old Bourbon County and look, these guys have a pedigree a mile long. They're bonafide founders of bourbon history and you need to get a bottle of their bourbon in your hand right now.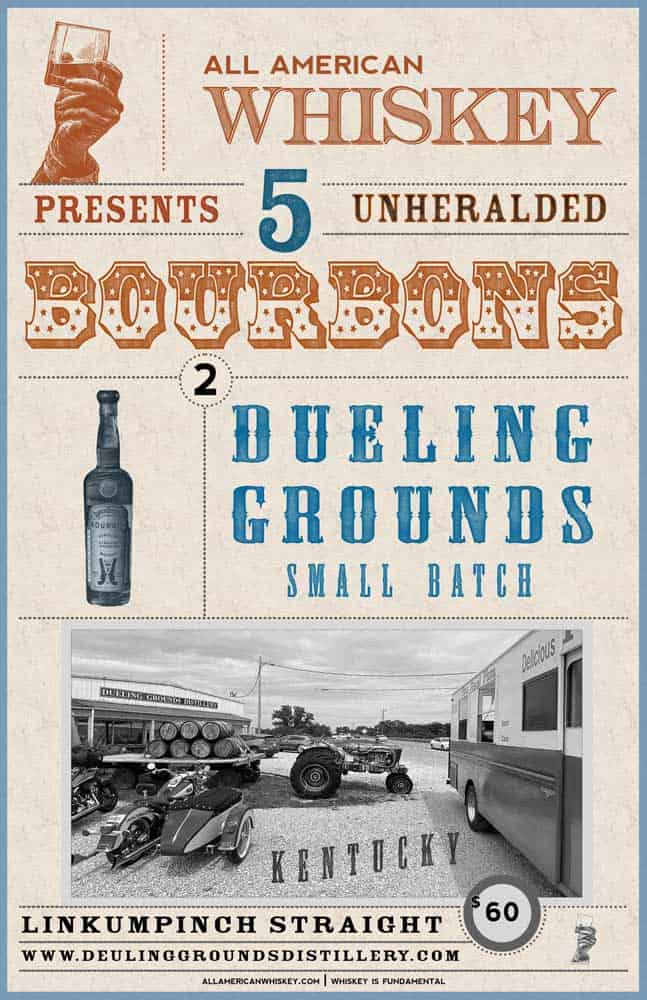 Dueling Grounds Distillery: Linkumpinch 4-Year-Old Bourbon Single Barrel Cask Strength
Dueling Ground's bourbons are limited-run releases of only 500 bottles each. They're made from local corn and grain in Simpson County, Kentucky, and are named for the famous dueling grounds at Linkumpich Farm near the Sanford Duncan Inn, which was built in 1818. The inn was in bumfuck Kentucky at a crossroads between Nashville and Bowling Green so it served as an ideal place to stage a duel. You could grab some whiskey at the Inn then walk out into a field and die with honor. The Inn is still open.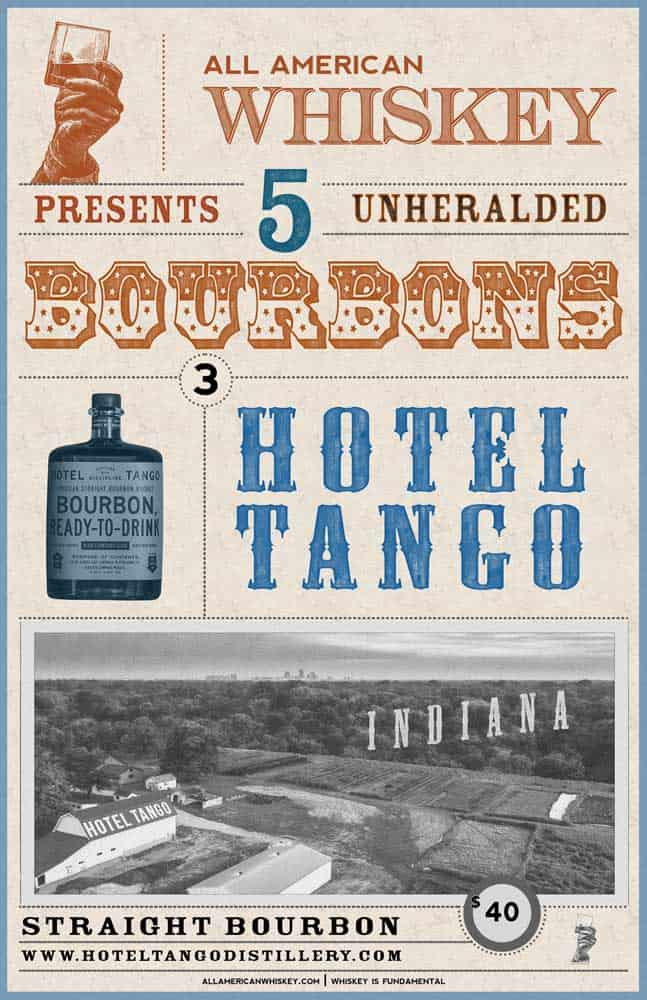 Hotel Tango Straight Bourbon
Hotel Tango is the first combat-disabled veteran-owned distillery in the country. The name is from the NATO phonetic alphabet. HOTEL is for h, or Hillary, while TANGO is for T, or Travis. They are the married founders, and Travis is the veteran and their bourbon is a 2-year aged masterpiece.
Their website is unapologetic about the heat and strength of their whiskeys, insisting they are cocktail-ready. This means their Bourbon might not be your Swansonian fireside preference, but if you're making a Boulevardier, it's going to stand up all by itself.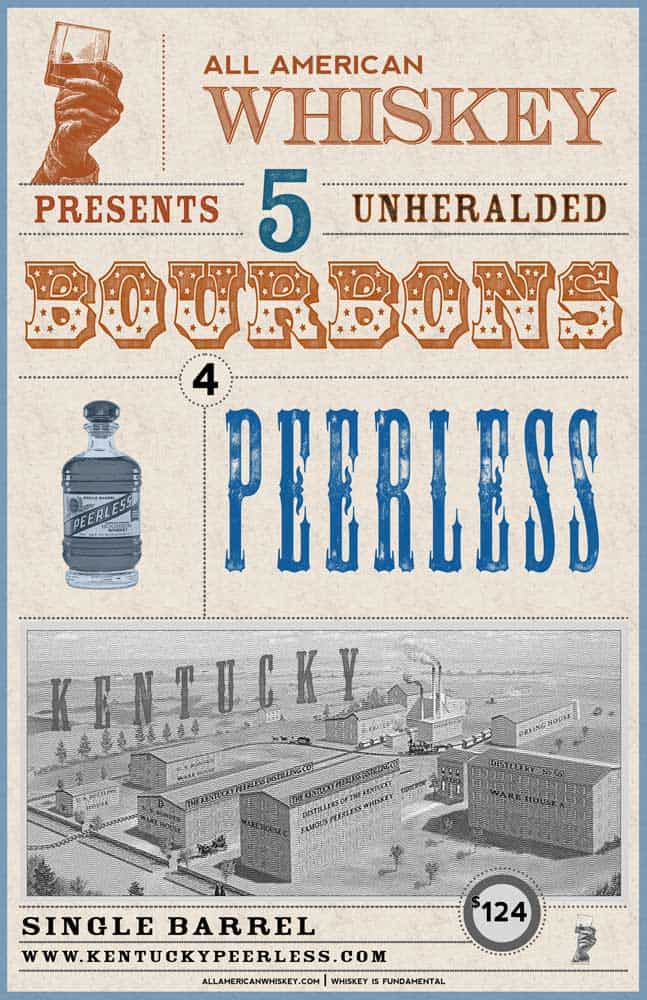 Peerless is true to its name
Five generations of Taylors are connected to Peerless Distilling. They're a Kentucky staple and one of those historic distilleries that kept going through Prohibition by producing medicinal spirits. Their distillery was protected by armed us troops and I'm not saying some of that product slipped through the ranks but you can't prove it didn't.
There are a lot of reasons to love Peerless Single Barrel Bourbon but can we talk about the bottle? It is distinct. No one else has this old-fashioned-looking barrel-shaped container. And can we talk about how their bourbon is made from a sweet mash, with no chill filtration, has no water added, and is barrel-proofed? Can we talk about that? or should we just pour some in our mouths? I think we should let's mmmmmppphhhdd . . .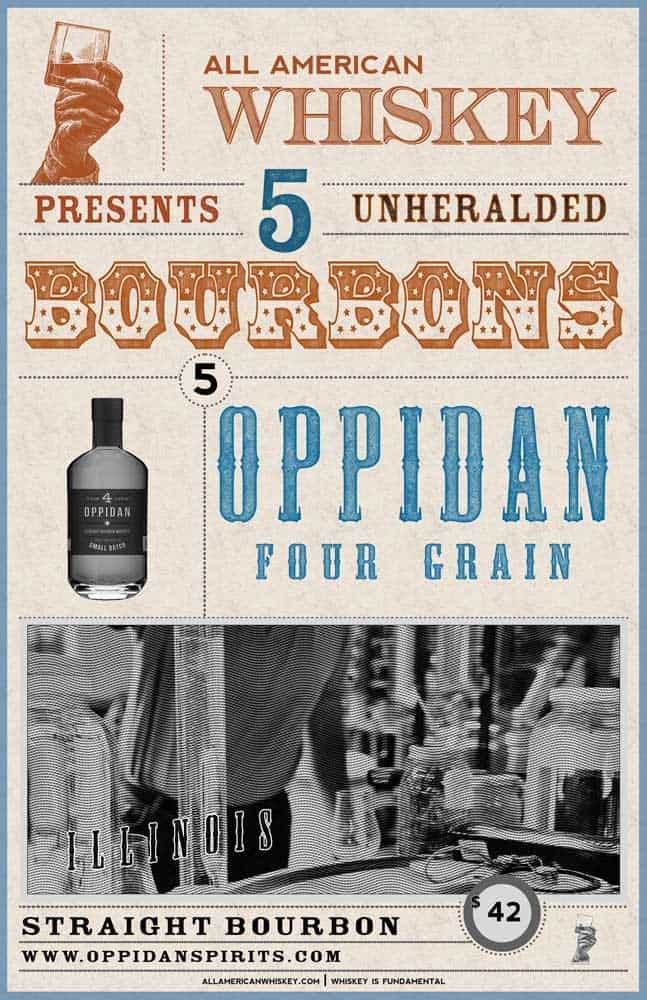 Oppidan Spirits is wingnut distilling at its nerdiest
Here's the thing. Distilling whiskey has limitations. The process is fixed. By that I mean there are taken and accepted steps. This ensures everyone wmaking 'whiskey' is actually making whiskey instead of snake sweat vodka then calling it whiskey.
There is wiggle room, however, within the steps. The percentages and grains on a mash bill are open for variation. The moment at which a spirit is bottled can be an interpretation. The widest avenue of expression lies in the aging process and here is where Jeff Walsh, founder of Oppidan Sprits, goes a little cray cray.
Oppidan's bourbon is aged in three different barrels—American Oak, French Oak, and Oloroso. That's a lot of flavor variation and potential with every trans-cooperage-swap. Each one offers a brand new version of whiskey but the genius doesn't end there.
Oppidan Bourbon is solera aged so none of those barrels is ever empty. This means today's bourbon marries with the first bourbon Oppidan poured into the barrel. It's as if there is a magical continuity of flavor.
And another thing. It's difficult to put it into words. Part of the experience of tasting Oppidan is knowing you're not drinking one of their Bourbons, but all their bourbons.
I only know two other bourbons which are solera aged: Hillrock and Blade & Bow. Get your hands on Oppidan immediately because I suspect they are going Pappy within a few years.